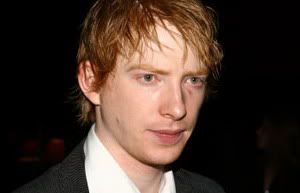 First reported earlier in the week, it is now confirmed that Domhnall Gleeson (son of Brendan Gleeson, Mad-Eye Moody) has been cast as Bill Weasley in the upcoming Harry Potter and the Deathly Hallows films.
Domhnall Gleeson is a Tony-nominated actor, who was reluctant at first to play a part beside his father, but is now quite eager for the role.
credit: www.hpana.com
Domhnall Gleeson is an Irish actor who will play Bill Weasley in the film adaptations of Harry Potter and the Deathly Hallows. He will work alongside his father, Brendan Gleeson, who has portrayed Alastor "Mad-Eye" Moody since Goblet of Fire.
He was nominated for a Tony Award in 2006 for his role as Davey in the play The Lieutenant of Inishmore.